Ah, peanut butter. Peanut butter is so delicious that it deserves to be celebrated…oh wait, it is! Peanut Butter Lover's Day, celebrated every year on March 1st, is a day for everyone to enjoy this gooey, nutty goodness.
National Peanut Butter Lover's Day began in 1990, and decades later, we are still celebrating the health benefits and deliciousness of peanut butter.
If you love peanut butter like we do, you probably also love peanut butter cookies. So, we've put together a delicious cookie recipe that is every peanut butter lover's dream come true. You're welcome! 😉
So get your apron on, and start baking!
What you will need:
½ a cup of sugar

1 cup of peanut butter

1 eggs

Cooling rack

Pam or parchment paper

Cookie sheet, bowls, spatula or large mixing spoon





Set the oven to 325 degrees Fahrenheit. In a bowl mix together one cup of peanut butter, 1 egg and ½ a cup of white sugar.


Roll the batter into small balls and put on the cookie sheet, approximately 2″ apart.






Bake cookies for 20 minutes.

Let cookies cool on a cooling rack for about 5 minutes (If you can wait that long!). It's time to enjoy them!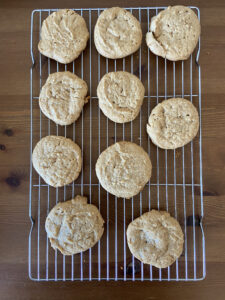 Recipe Source: https://www.kraftcanada.ca/recipe/super-easy-peanut-butter-cookies-85456