ADULT CRAFTING BY THE CURATED HIVE
Creative self-care starts here: Unwind and craft with our DIY craft kirs desiged for all skill levels.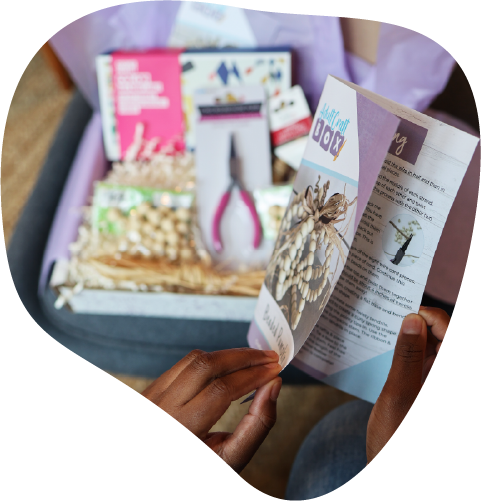 If you love creating, crafting, and making, box is perfect for you!
Customize your plan! You can choose to have boxes delivered monthly or quarterly. 
Once your subscription is confirmed, your first box will be sent out on the next shipment date!
Create Projects Your Proud To Put On Display!
Trendy Home Decor Craft Projects Delivered Monthly

All the material

and tools needed
Each project can range from 2-3 finished products
New and on trend crafts every month.
Fun recipe card to try in everybox.
Seasonal Mega Box EVERY QUARTER for the same price as a standard size!
High quality BONUS ITEMS that vary from journals, cook books, professional crafting material, & more!
Requires a minimum 3 month comittment
(Paid monthly until cancelled)
3-5 Trendy Craft Projects delivered quarterly

All the material and tools needed to complete your projects

Seasonal themed craft projects

2 Fun recipe cards

High quality BONUS ITEMS that vary from journals, cook books, professional crafting material, & more!
(Paid quarterly until cancelled)
Why Choose Creative Hive Makers?
Actual time for YOURSELF!
Our curated trendy craft kits are designed to help you effortlessly tap into your creative flow and unwind. Unlike a trip to the craft store, where you might spend more time hunting for supplies than crafting, our kits provide you with everything you need upfront. This means you can dive right into your project, eliminating the stress of gathering materials and allowing you to focus on the joy of creating.
No Excess Materials, No Clutter
Tired of leftover craft supplies cluttering your space? Our craft kits are meticulously assembled with just the right amount of materials for your project. Say goodbye to half-empty paint tubes and unused ribbons taking up precious storage space. With us, you create without accumulating excess clutter.
Quality Finished Products for Home Decor
Unlike many DIY projects that might end up as unfinished crafts hidden in a drawer, our curated trendy craft kits guarantee a quality finished product that doubles as beautiful home decor. Create stunning pieces that you'll proudly display in your living space, adding a touch of personality and style to your home. With us, crafting becomes a rewarding experience that elevates your living environment.
In addition to the crafting essentials, our boxes come packed with high-quality bonus items like recipe cards, journals, cookbooks, novelties, and more! It's not just a crafting experience; it's a complete package of relaxation and creativity, designed to enhance your overall well-being and enjoyment. Choose The Curated Hive for a crafting journey that goes beyond the ordinary.
✔  Trendy DIY Projects:
Experience the joy of crafting with our trendy DIY projects. Each kit features unique and captivating craft projects that are perfect for unleashing your creativity.
✔ All Materials & Tools Needed:
Forget the hassle of hunting down supplies. Our craft kits include all the necessary materials and tools, ensuring a seamless crafting experience from start to finish.
✔ Quality Finished Products:
Craft with confidence, knowing that your end result will be a high-quality finished product. With easy to follow instructions, our kits are designed to produce stunning creations for all skill levels.
✔ Fun Recipes:
Elevate your crafting journey with our fun and inspiring craft recipes. Explore new techniques, colors, and styles with our carefully curated projects.
✔ Bonus Items:
Every Curated Hive craft kit includes exciting bonus items that go beyond the crafting experience. From charming novelties to useful gadgets, each unboxing is a delightful discovery. Need more answers? We've got them! Visit our customer support page. We are always happy to help!
What types of craft projects can I expect?
Our craft kits feature a variety of trendy DIY projects, from home decor items to stylish accessories and more. We set our boxes up in a way that allows you to still have creative freedom and ensure your craft is unique and represents your style.
What if I don't have any craft material or tools?
From hot glue guns, to pliars, to buttons, our craft kits include all the materials and tools needed for the featured projects. You won't need to purchase any additional supplies.
Can I send a box as a gift directly to the recipient's address?
Absolutely! You can have the box shipped directly to the gift recipient's address, and you can include a custom gift message to make it even more special.
How do I get assistance or support for my subscription?
For any assistance or support regarding your subscription, please reach out to our customer support team at [customer support email/phone number]. We're here to help you with any questions or concerns you might have!
Can I cancel my subscription at any time?
Yes, you can easily cancel your subscription anytime through your account settings.
What if I want to switch my subscription plan?
Not recieving enough craft projects? Or maybe recieving too many? No worries, easily switch your subscription plan under you account settings through www.thecuratedhive.com