It's Mother's Day this weekend and that means it's the perfect time to create a card for Mom! This is an easy and adorable craft that your kids can do with a bit of help from you!
Use any colour of paper or cupcake liners. Instead of using pom poms you could use buttons or another small item of your choice. When you decorate your craft you can draw or glue items on the large piece of paper. On the mug you can write a nice message about your Mom. After you have finished decorating, give your card to your Mom or a Mom who could use a smile. Happy crafting!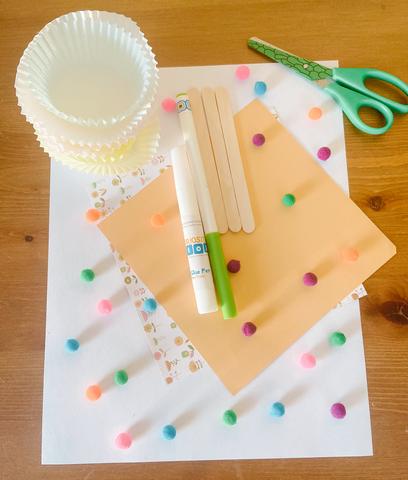 Materials:
3-4 colored muffin papers

3-4 popsicle sticks

White glue

1 sheet of scrapbooking paper (or plain paper)

1 Pair of scissors

Green marker

Small beads, buttons, pompoms or something else to decorate your craft with
Instructions:
Start off by colouring all 3 of your popsicle sticks with a green marker.

Next, draw a mug on a colourful piece of paper. Do this on 2 different pieces of paper. Cut them out and glue just the handles of the mugs together. Glue the bottom mug cutout onto a piece of paper – this will become a card so you should be able to open the top piece and see the bottom piece.

Next, glue your 3 popsicle sticks onto your piece of paper. Glue them so that they look like they're coming out of the mug.

After that, glue cupcake liners on the ends of your popsicle sticks.

Next, glue pom poms in the middle of the cupcake liners.

Lastly, it's time to decorate the card portion of the craft! You can draw or write something nice for your Mom on the cup.